9x9 KenKen*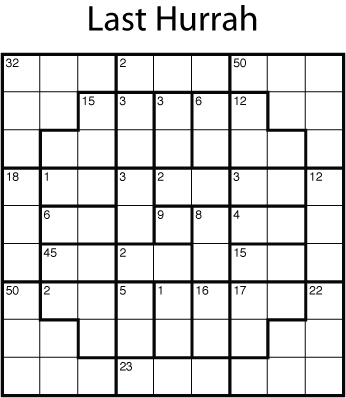 *(use digits 1 to 9, multi-cell division and subtraction are possible)

Beware! While this has sudoku-like boxes, there is no 3x3 region constraint. I hope that this, like my "Here Comes The Sun" puzzle from two weeks ago, is a very fun but challenging puzzle for you. Out of all my puzzles, while the theming on other days of the week has been stronger visually, the Saturday puzzles are the three I'll come back to and appreciate the most.

This will be my last "daily" KenKen for awhile. I have a couple other puzzle projects that in the next two months need a lot more attention than I've been giving them. I may post an occasional idea here - I still have some concepts I want to explore - but don't count on too many in any given week or month. I can report, for those who have enjoyed these puzzles, that there is a high probability I will be writing a book of these puzzles sometime in the future. Perhaps when I start working on that project, and have some "slush" puzzles from my writing, I'll begin posting puzzles regularly here again, but that won't be until this summer.