Two more puzzles to go; here is #7 of 8 in the Stanford Medicine Sudoku series. I completed this puzzle in 3'25" and I like to think that I purposefully filled in one of the easiest digits last. Still, there are many ways to approach a puzzle and just looking at certain digits is not where I get started here as you'll hear in the discussion video.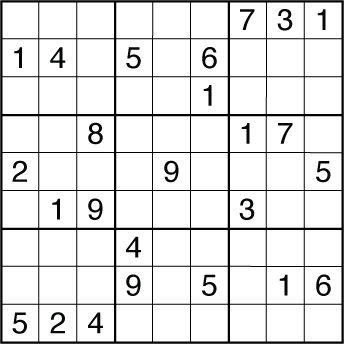 Solution of Puzzle #7
- 3 minute, 25 seconds
Puzzle #7 explanation
In other sudoku news, I took the weekend to retake some past championships (specifically WSC1, 2, and last year's French and Japanese championships - two countries who did not run a championship this year despite good tests last year). I wanted to answer two questions and got about one and a half answers out. First, I need exactly 2.3 of me to complete the team rounds from Prague, taking an average of 2 hours and 17 minutes over those two rounds. This coming WSC will feature smaller teams so maybe I can have a bigger role in helping the team reach 1st place, but then again we did really really well on the team rounds in Prague and just had too big of a gap in the individual results to catch up. My favorite puzzle from that WSC this go-around is probably the even in the second team round which has a very nice work-in (even without using uniqueness which is not enough). My second question was, given my famous "15-20% better" statement of last year between WSC 1 and WSC 2, what would my x% improvement be this year. I'd say I'm 15-20% faster at classics, which are the most important for the US championship, but the WSC puzzles are much more varied so my real improvement is not as high as last year, maybe 5-10%. Let's hope it is enough to stay in a comfortable play-off position.